SCHOOL BUS TRANSPORTATION
Cromwell Public Schools uses Dattco to transport our students to and from school.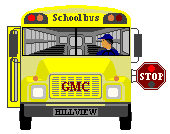 Bus Routes for the school year will be available soon on the Dattco website.
Route information will also published in the Middletown Press and Rare Reminder in August.
Click here to access the school bus routes for the school year. Select Cromwell from the dropdown menu.

For Choice Students - Transportation information will be provided by Hartford.
Rules for riding our school buses are published in each school's student handbook.
For all bus questions, please contact your child's school directly.
For Special Education contact Wendy Dowling, Administrative Assistant for Special Education at 860-632-4831 or wdowling@cromwell.k12.ct.us